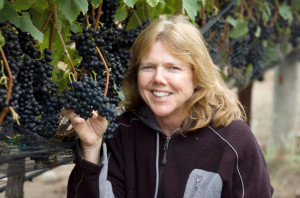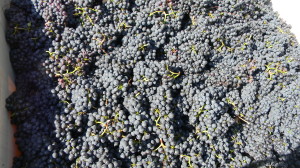 The Partners @ Foxx Viticulture
Prudy Foxx is an experienced biologist and viticulturist practicing in the industry since 1983.  She founded Foxx Viticulture in 1997 with the intention of assisting people to produce the high quality wine expressive of the terroir of origin.
Foxx knows that vines planted in the appropriate site for the variety and grown with organic and sustainable best farming practices with an eye to vine balance will have every opportunity to become a premium wine.  Wines produced with input from Foxx Viticulture have earned top recognition in a wide variety of tasting competitions and from respected wine journalists.  Their vintage status is becoming an important addition to the cellar as well as contributing to the joyful experience of fine wine shared at the table.
Prudy is a graduate of Western Washington University in Environmental Science.  She has continued her studies with cutting edge viticulture classes at UC Davis and the University of Bordeaux. She continues to participate in and produce innovative seminars on the latest viticulture research related to this dynamic field.
Foxx worked as vineyard manager for Mt. Baker Vineyards in Washington State and Bonny Doon Winery in Santa Cruz from 1983 to 1991.  She followed with 2 years as a research aid for the UC Davis Agriculture Extension Service in viticulture.  She moved on to the Agricultural Commissioner's Office as a licensed Agricultural Biologist from 1992-1997.  In 1997 Prudy founded Foxx Viticulture as a licensed PCA and practicing viticulturist focusing on premium wine growing in the Santa Cruz Mountains.  She recently formed a small winery with partners in order to pursue research on the influence of terroir vineyard practices on wine quality.  Prudy has been invited to sit as a judge in several small wine competitions including the El Dorado Commercial Wine Competition and the Santa Cruz Amateur Wine Competition, and she regularly participates in evaluative tastings with a wide number of wineries and groups.
Prudy served as President of the Viticulture Association of the Santa Cruz Mountains from 2003 – 2006 and wrote the "Vine Talk" column through 2013;  she is a founding member of the Technical Session Committee for the Pinot Paradise Event put on annually by the Santa Cruz Winegrowers Association since 2005; and currently chairs the Santa Cruz Winegrowers Association Growers group and coordinates regular technical grower meetings and authors follow up articles. In 2014 she became a member of the Board of Directors with the Santa Cruz Winegrowers Association.
Mark Foxx is a practicing geologist and engineer focused on soil structure and the interface of sea to land.  He has a Masters Degree in Geology from University of California at Santa Cruz with special studies at Stanford University.  Mark assists in early evaluation of properties for soil structural analysis and mineral evaluation.  Mark also consults on issues regarding local government regulations related to vineyard and winery establishment.
Mark is also a California Real Estate Broker, specializing in premium vineyard and winery properties. For more info, email foxxmark@aol.com